Current Account
The first step towards a new banking experience, easy like never before.
Feel free to carry out transactions anywhere and at any time!
Good reasons to move in
Pocket banking
Instant overview of all your accounts in one place
Easy payments
Payments and transfers done with ease
Smart solutions
A wide range of services available any time and everywhere
An easier banking with DIGITAL BANKING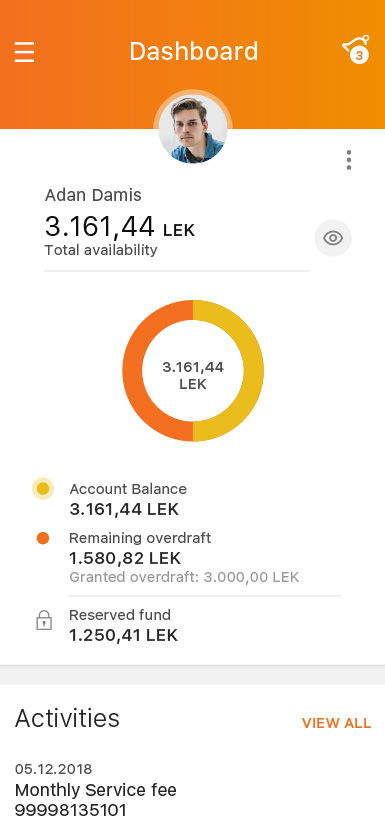 An easier banking with DIGITAL BANKING
Manage payments to frequent or trusted beneficiaries very quickly and keep your finances on track, all in one place.
Use #withPAY to quickly transfer money to your friends, whenever you want.
Withdraw money from ATM without using the card, just with your smartphone
Forget the long queues and pay your bills at your convenience
#withCASH
Now you can withdraw money on ATM without using your card. How does it works?
Tap on #withCASH on the mobile app
Choose the card, amount to withdow and the lifetime of the code
Generate the code
Input the code on ATM to withdraw the money
That's it!
#withPay
Allows you to make fast and smart payments to your friends using only their phone numbers
Tap
Tap on #withPAY button on your mobile app
Select
Select the beneficiary from your phone contact list
Insert
Insert the amount of money to transfer
Open a Current Account! Be our customer!
Intesa Sanpaolo Bank Albania's current account is the account for day-to-day use, which also gives you access our DIGITAL BANKING App to easily manage your money.
You can open an account in the following currencies: LEK/ EURO/ USD/ GBP & CHF.
Terms & Conditions

Monthly Fee

150 Lek

Minimum Balance

1000 Lek

Account Balance - FREE

0 Lek

Cash Deposit - FREE

0 Lek

Currency Exchange - FREE

0 Lek
VISA Inspire
You can request a debit card associated to your current account

Free withdrawal on our ATMs in Albania

Free withdrawal on Intesa Sanpaolo Group ATMs abroad

Free POS Payments in Albania
Learn more
How to open a Bank Account?
Identification Document
Just take a Identification Document