Banking like never before
A new kind of bank is on its way. A bank always connected to you, with a suite of powerful tools and apps that allow you to manage your bank account, in a very simple way, and to build your future.

Always close to you!
All your finances are at hand: use the DIGITAL BANKING APP to manage your bank account.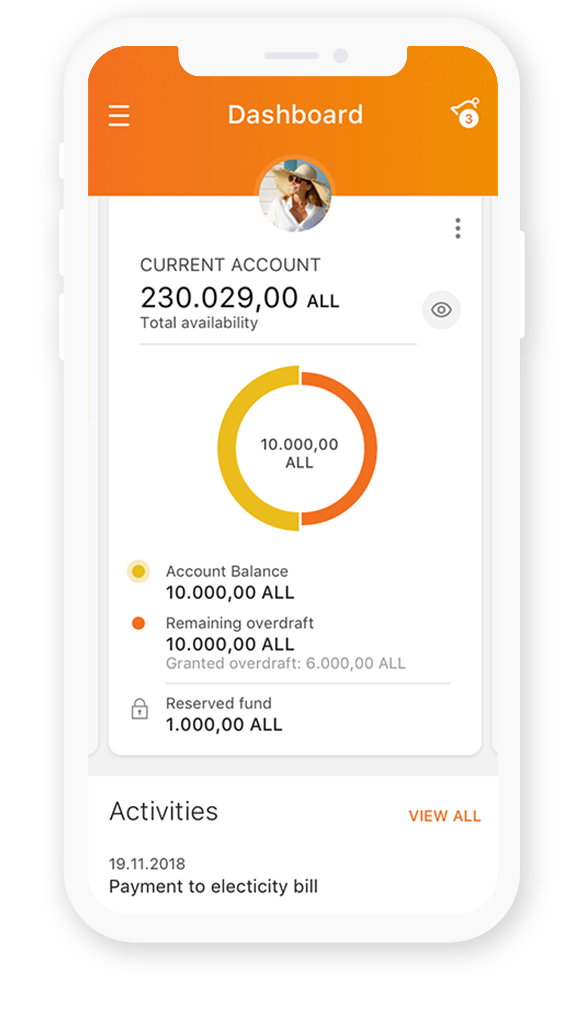 Banking made easy
Everything on one place
DISCOVER MORE
Offer for Mortgage Loan
Benefit today from the Mortgage Loan Offer!
Fixed Interest rate starting from 2.6% for up to 15 years!
Personal Loan
Do you need a "BIG" loan with fantastic conditions to use it for your needs and desires?
Discover more
Our cards
The world's most popular cards. A wide range of products and services that make payments safer, simpler and smarter, and helps you manage everything from purchasing to getting paid.
Currency Calculator
Insert amount and select the currencies to see the foreign exchange rate
Last foreign exchanges values updated on
Terms, Conditions & Interest Rate for Individuals
Important Notifications
* Deposit Interest is applied annually; number of days / 365
All deposits of citizens in our Bank are insured according to the Law "On Deposit Insurance" dated 22.05.2014, Law no. 53/2014. Deposit at the Bank is secured up to 2,500,000 (two million five hundred thousand) LEK by the Deposit Insurance Agency www.asd.gov.al
This is an advertisement. For the full Products Features and Terms & Conditions please visit any of our branches, click the website or Call at the Call Center Service.